Soft Roll-up Truck Bed Cover
Roll-up tonneau covers are one of the most popular tonneaus. They are known for their combination of quality, simplicity and affordability. Roll-up tonneaus are easy to roll open and closed. These truck bed covers can even be left partially open, if you choose.
At Auto One, you can find the right soft roll-up tonneau cover for you. Some of the options you have to consider are:
TruXedo – The Truxedo LoPro Qt tonneau cover rolls up and out of the way in seconds to give you full bed use when needed. Exclusive side and corner sealing keeps cargo dry and free from the elements. Custom-fit low-profile stylish appearance mounts to the inside of your truck bed.
Lund – The Genesis Roll Up tonneau cover adds style and increases security and protection. The truck bed cover enhances aerodynamics which saves you money at the fuel pump. The tonneau cover is made out of heavy duty, double sided fabric which repels water instantly and is highly resistant to UV rays. The Genesis is easy to open and close due to the integrated cross bars that are fastened directly to the vinyl tarp.
Advantage Truck Accessories – The SureFit is heavy duty. The entirely black frame and bows present a stylish look even when the cover is rolled up. The Sure-Fit system is designed for all-climate conditions. You will be able to snap and unsnap your cover with ease, regardless of the outside temperature.
Product Spotlight: TruXedo Lo Pro QT

The TruXedo Lo Pro QT offers a sleek, low-profile appearance. It mounts on the inside of any truck bed for a flawless look. It's unique inside mount design of the rails allows you to accessorize with most bed rails, bed liners and rail caps. It boasts an easy installation and is easy to use. It installs in minutes with a pre-assembled, quick attach cover system. The bows can be conveniently rolled up within the cover for easy storage.
The patented spring tensioner self-adjusts to always keep the cover tight in changing temperatures. Its industrial strength hook and loop moves on the rail and works with the tension control system to keep the roll-up cover tight, while reducing wear and tear. With a single finger you are easily and quickly able to release the trigger latch. The exclusive side and corner sealing keeps Mother Nature's worst out and protects your cargo. The TruXedo® Lo Pro QT secures automatically when latched at the rear, and provides added security when used with a locking tailgate. There are no additional locks or sliding mechanisms needed to lock the cover.
The TruXedo Lo Pro QT can improve your gas mileage up to 10%. It is the best selling tonneau cover in North America and offers a limited lifetime warranty.
Soft Roll-up Truck Bed Cover Manufacturers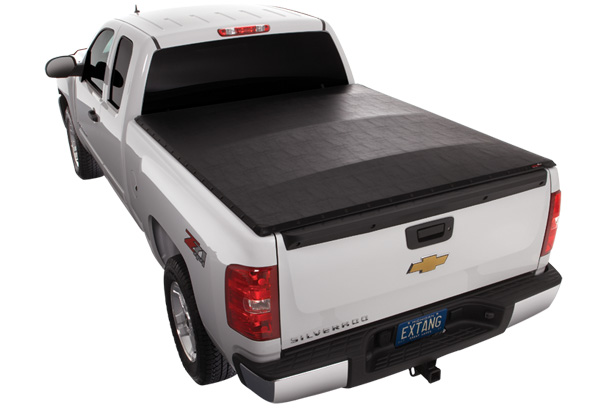 You can find a large selection of soft roll-up tonneau covers at Auto One. Talk to your Auto One technician for the roll-up cover for you. Here are some manufacturers:
TruXedo
Extang
Rugged Liner
Lund
Downey Tonneau Covers
Advantage Truck Accessories