Folding Tonneau Covers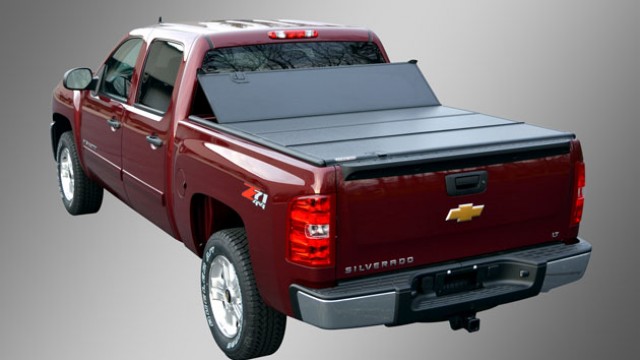 Folding tonneau covers offer protection for all of your gear with an easy-open and versatile design. Folding tonneau covers have all the convenience of soft covers with the structure and security of a hard cover.
At Auto One, you can find folding truck bed covers that will protect everything you can fit under them! Some of the options you have to consider are:
Extang – with this product you can easily open the cover from the front and rear of the cargo area. Your truck bed will remain 100% accessible under this cover. You can use 75% of the bed for transporting taller items with the cover folded and stacked behind the cab.
TruXedo – this folding tonneau covers provide the smooth look of a hard cover with the convenience of a soft cover. In seconds, folding tonneau covers easily reveal your entire bed for big loads. Hard folding tonneau covers install fastest and easiest.
Bak – these truck bed covers fold up into multiple sections, allowing you to easily switch between keeping your truck entirely covered, partially covered or completely open. They're available in hard and soft styles. Hard folding tonneau covers come in your choice of ABS, aluminum or fiberglass.
Product Spotlight: Extang Trifecta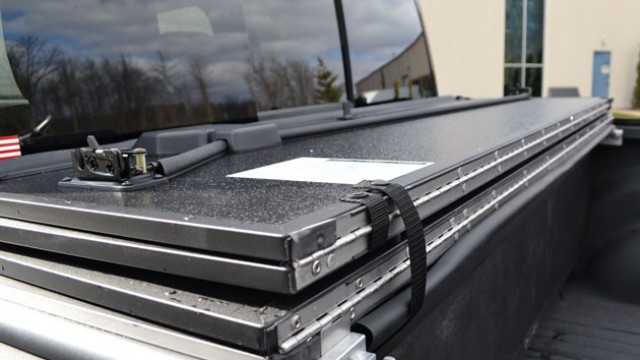 The Extang Trifecta Folding Tonneau Cover offers solid protection for your payload. This custom fit truck bed cover gives you an easy-to-use folding design, smooth looks and long-lasting durability. Looking to save on gas? The Trifecta's design can give you improved gas mileage.
The Extang Trifecta Tonneau Cover features a heavy-duty tarp that is expertly sewn to three folding aluminum frame sections, making it fast and easy to access your entire truck bed. The Trifecta offers you brilliance – including Extang's glass-filled nylon MaxHinges that feature protective padding and a double-pivot design. The heavy-duty, luggage-style Hold-Tite fasteners are easy to use and can be adjusted. This allows you to keep the tonneau fully open when loading and it keeps your cargo safe, dry and clean when driving.
You have the choice of two fabrics for your truck bed cover — traditional, commercial-grade vinyl or the Signature Series, which features rich-looking, vinyl-backed black canvas. The Trifecta Tonneau features a Lifetime Warranty on the frame and the tarp.
Truck Bed Folding Cover Manufacturers
You can find a large selection of folding truck bed covers at Auto One. It's up to you how you want to protect your gear! Talk to your Auto One technician about the best folding cover for you to meet your needs. Here are some manufacturers:
Extang
TruXedo
Bak
Rugged
Lund