Running Boards
Auto One is your local source for truck accessories including running boards and nerf bars. As trucks get taller, passengers often require a step to conveniently get into your cab. There are many options to choose from including Nerf Bars, Step Bars and Power Steps.
Made from durable materials like stainless steel, ABS plastic and aluminum, these running boards are made to resist rust and corrosion. Cash and carry or have our professional installers put the runner boards on your truck, van or SUV.
When buying running boards, don't forget to look at running board lights to illuminate your step in the darkness.
Running Boards, Nerf Bars or Side Step?
There are many truck accessories designed to provide you with a step into your pick-up truck. Which one you pick is a matter of style preference and budget.
When you visit auto parts stores, you'll hear a variety of words when asking "What are running boards". Here are some definitions to assist you.
Running Boards - Often square, black or chrome steps or custom molded to match the vehicle giving it a "factory look". Attached directly to the frame, running boards have a 500 lbs capacity.
Nerf Bars - Three inch tube shaped steps with a weight capacity of approximately 300 lbs per side.
Oval Step Tube - Step bars that are shaped similarly to Nerf bars (tubes) but tend to be wider (4 and 5 inches)
Side Bars - Generic term that can be used to describe all types of running boards.
Product Spotlight: AMP Research Power Step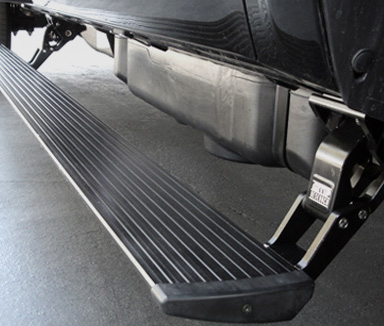 This made-in-the-USA product, maintains the original appearance of your pick-up truck while providing you with the comfort of an exterior step. The Powerstep extends when your truck door is opened and closes with the door.
Integrated LED light system to illuminate the step at night
Aluminum-alloy arms and Teflon coated arms to resist corrosion
Texture-powder coat Aluminum step
5 year manufacturer/60,000 mile warranty
Learn more about Amp Research Power Step
Best Running Boards Truck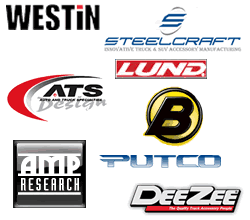 Auto One carries truck boards from these elite manufacturers.
Not all step bar brands will be available at all Auto One locations.
Call today
(866) 454-5277