Windshield ADAS Calibration
Technology is constantly changing, and windshields are no exception. Your windshield is not just a piece of glass. In many newer model vehicles with advanced driver assistance systems (ADAS) there are cameras, sensors and other equipment mounted on the windshield that can affect how your car functions. As windshields become more complex, so does the process for replacing them.
At Auto One, we are experts at windshield replacement, including ADAS calibration. We have the expertise, tools and technology to get you back on the road safely.
What is ADAS Calibration?
When a windshield is replaced, all the ADAS equipment such as cameras and sensors are removed and re-attached. A change in camera angle of just one degree can have a huge impact on the camera's viewing area, which can affect how the vehicle's ADAS features will work. The calibration process adjusts and tests all the cameras and sensors on the windshield to ensure they are still working properly after it is replaced. Without calibration, the vehicle's ADAS features may not function properly, which can lead to an accident.
Even though it sounds simple, calibration is a complex process that requires special equipment and training. The technicians at Auto One are experienced with ADAS calibration using a custom tool called Opti-Aim™. Once connected to the vehicle, Opti-Aim™ begins the camera aiming process and then works with the vehicle's computer to optimize camera alignment and restore it to the manufacturer's specifications.
How long does ADAS Calibration take?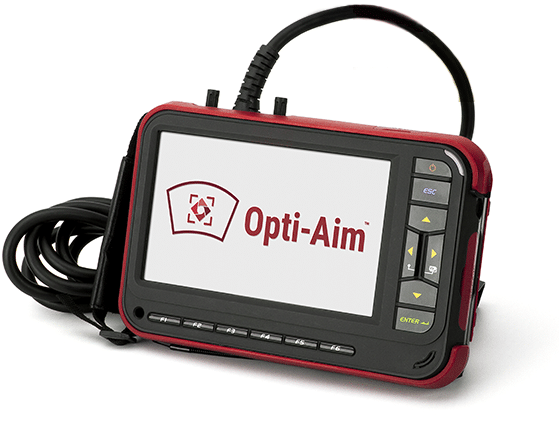 The Opti-Aim™ calibration process typically takes about 30 to 45 minutes. It can be completed during the same visit as your windshield replacement. Auto One uses a process called dynamic calibration, which requires the technician to drive the vehicle to calibrate the camera. The technician needs to wait at least 30 minutes for the windshield to set before the calibration process can begin. You should plan to leave your vehicle with us for at least a few hours if you need this service.
Does my windshield need Calibration?
Consumer Reports has a tool to show which makes and models of vehicles have ADAS features. Any of the vehicles listed with ADAS features will most likely need calibration.