Sunroofs

Auto One can repair or replace the glass in your sunroof. When rocks, tree branches or that garage ladder break or chip the glass in your sunroof, bring your car, truck or SUV to Auto One. Our Independent Glass Association certified installers will replace or repair the sunroof glass for you. We have convenient Auto One locations across Michigan to serve all your sunroof repair needs.
The quality and price of a sunroof is determined by the size.
The larger the sunroof, the more you'll pay!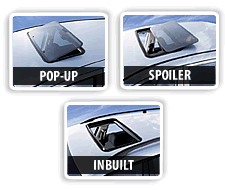 Sunroof Glass:
The difference between a sunroof that is less expensive and a sunroof that is considered "high-end" is that the less expensive sunroofs use a dot matrix, screened glass that reflects back about 50% of the sun's heat off the glass; the high-end sunroofs use a solar cool reflective glass that looks like a one way mirror. These sunroofs reflect 93% of the sun's heat off the glass, so even on a very hot and sunny day, you will stay cool. It's more expensive for the manufacturer; however, they are considered to be the best kind. We can repair both types of sunroofs at Auto One.
Sunroof Handle and Hardware:
When it comes to handle and hardware, a lot of sunroof manufacturers will use the inexpensive, flimsy plastic or aluminum that gets easily broken. We recommend you find sunroof manufacturers that use steel and/or carbon fiber for superior strength and long lasting reliability.
Sunroof Seals and Gasket:
It is important to know what type of material was used for the seals and gasket because this is one of the most vital parts of the entire sunroof. Most sunroofs have a seal made of neoprene, and once it's exposed to weather, it rapidly deteriorates. Premium sunroofs primarily use silicone that has a 20 year life expectancy.