Headrest DVD Player
Whether you need a headrest DVD player for your daily commute or for a long distance trip, Auto One Glass and Accessories has a mobile DVD player for all of your needs. Your family will experience hours of enjoyment watching movies with fantastic sound and crisp pictures from the LCD and LED monitors making long trips seem shorter.
With all of the different mobile entertainment systems available, there are many factors to consider when selecting a headrest DVD player for your car or truck. SUVs and family vans have the headroom available for a flip-down style mobile TV. Headrest DVD players are popular due to price and dual viewing options. For front seat passengers, you could consider an in dash unit or a visor display. When in doubt, get an unbiased DVD player review from the staff at Auto One. For nearly 30 years, Auto One has been installing 12-volt electronics in a variety of vehicles.
The mobile TV systems we sell are designed to match OEM parts and colors allowing them to fit seamlessly into your Ford, Chevy, GMC, Nissan or Toyota car, truck or SUV. You can trust your car or truck to the professionals at Auto One.
What's in the DVD Player Box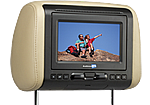 One of Auto One's most popular mobile TV units is the DVD headrest player. There are many options to consider when installing this type of portable DVD player.
Touch Screen or standard button type controls
Dual or single view headrests
Wireless headphones
One or more wireless remote(s)
10 inch or 7 inch LCD monitors
Aspect Ratio of 4:3 or 16:9
Multiple Audio Visual Inputs
USB and SD Card ports
Plays DVD, cd, mp3
Is it removable and portable?
How easy is the remote control to use?
Innovations in DVD Player Technology
Video Game Systems
For the younger generation, video games are as popular, if not more popular, than movies. Taking this into consideration, many DVD players, have the built-in capacity to connect video game systems.
Combine two headrest DVDs, two wireless headphones and one or more video game systems, and your video game enthusiasts will have an unbelievable mobile entertainment system.
Touchscreen Headrest DVD Player
Tired of losing the wireless remote control? Don't worry about it. Touchscreen technology like that found on smartphones and tablets is also available on many DVD for car systems. The Graphical User Interface (the GUI in geek-speak) is designed with large buttons and icons making these systems easier to touch and program.
DVD for Car Options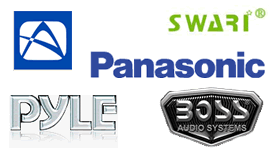 As a leading retailer in car electronics, Auto One carries many of the best DVD player systems from manufacturers including:
Not all DVD player systems will be available at all Auto One locations.