Wind Deflecting Vent Visors
Do you enjoy driving with the window open, but are tired of having the rain spoil your fun and your vehicle's interior? You should install vent visors on your Ford, Chevy, Toyota, or Nissan vehicle.
Vent visors are also know as window deflectors, air flares, or rain guards (depending on your location). They keep the rain out while allowing cool air to replace the warm air in your cabin.
You could visit your local NAPA auto parts store, but why not bring your vehicle to your local expert in auto accessories. Auto One doesn't just sell parts. Auto One is all about aftermarket auto parts that make your vehicle better. Our technicians specialize in installing either in-channel or tape-on window vents and tricking out your car, truck, SUV or van. Buy just the sidewind deflectors or let us accessorize your entire vehicle.
What's in the Vent Shade Box
Window Vents come in a variety of colors and the acrylic is expert fit your car, truck or SUV:
Standard black, dark smoke
Light smoke
Camouflage (Camo) greens, black and browns
Chrome, metallic
Clear
Best Air Deflector Brands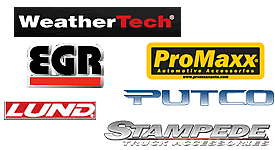 As one of the nation's leading OEM replacement and aftermarket auto parts retailers, Auto One carries window vent visors from manufacturers including:
Not all vent visor manufacturers will be available at all Auto One locations.
Colored Vent Shades
Putco Chrome
For customers looking for something different, consider Putco's Element Chrome Window Visors. The hard ABS plastic is designed to survive in a variety of elements while providing a beautiful, chrome finish to your truck. Putco Element Chrome VentVisors are designed for the best fit available!
Stampede Camo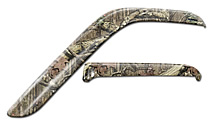 The hunter in your family will enjoy the camo look of Stampede's window deflectors and appreciate the high quality plastic that resists chipping or cracking while on the hunt. These vent visors are available in ten different camouflage patterns to compliment your truck.