Mud Flaps
Protect your vehicle from water, stones, dirt and debris with aftermarket mud flaps installed at Auto One. The mudguards we sell are designed to funnel water and debris away from your car or truck and from any items you may be towing.
Not all mud flaps are created equal. Our wheel guard manufacturers use quality materials to construct custom molded, form fitting, crack resistant mud flaps for your vehicle.
Mudflaps to Show Your Style
Show the personality of your pickup truck, SUV or van with a branded mud flap:
4 x 4 Logo
Mud flap Girl
Animal Logos (new head cat or fish)
Vehicle specific (Ford F-150, Denali)
Other branded logos (Cummings, Bayliner, Skidoo)
Camouflage (Camo) mudflaps
Standard smoke black
Not all mudguard styles will be available at all Auto One locations.
Hi-tech Mudguards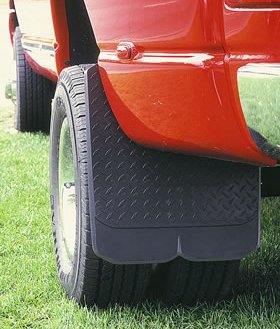 Today's mud flaps are more than just plastic hanging behind your tires.
Mud flaps are made from durable, crack resistant materials like ABS plastic, resins, polymers-rubber and stainless steel.
Many Mud flaps have a special groove design on them that funnels water and debris away from your vehicle protecting it by preventing the water from ever reaching the metal.
Husky Liner, WeatherTech and More
Auto One carries truck mud flaps from the nation's top manufacturers:
Visit your local Auto One for a catalog of all the mud flaps available for your car or truck.