GET THAT CHIP REPAIRED NOW!
FOR FREE*!
Before it turns into a costly Windshield Replacement...
while you wait! 30 to 40 minute ave. repair time.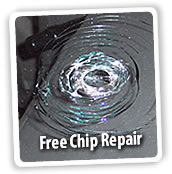 How We Repair Chips in Your Vehicle's Glass
A certified technician removes any fine glass dust from the chip and uses a special machine to extract the air from the chip cavity. The chip cavity is then filled with clear acrylic resin and cured with a UV lamp - all in about 30 minutes. The resin is stronger than the windshield itself and is approved by the Department of Transportation, ensuring your complete safety.
Auto One offers the best "Free Auto Glass Repair Service"* in the entire Windshield Replacement and Repair Market. Visit your nearest location to have your windshield repaired today. There's No Hassle, and we will handle all insurance paperwork. *most locations & insurance companies